TRON is a decentralized blockchain-based protocol, operating system and content distribution platform for the digital entertainment industry. The main organization, the Tron Foundation was set up in July 2017 and went on to successfully conduct a $70 million Initial Coin Offering (ICO) for its native cryptocurrency — the TRX.
The mainnet of TRON was brought online in May of 2018, with the genesis block being mined within a month after that. Since its launch, the project has grown by leaps and bounds by coming up with numerous advancements and updates to help add value to the ecosystem. One of the major additions is the acquisition of file-sharing protocol BitTorrent, which is expected to help bring TRON to close to a billion users over the next few years.
In its barely a year of operation, 400 dApps and around 2,500 TRON based tokens have been developed within the TRON ecosystem. Naturally, the rise in the number of dApps and tokens has attracted a lot of new users to this project, with an increasing number of people looking to acquire TRX and other promising TRC tokens.
Case in point, to make it easy for users to acquire and store TRX and related tokens, or use TRON dApps, we will compare the top 3 TRON wallets for Android, with a focus on advanced features.
Note: To keep things simple, we will avoid multi wallets and only focus on exclusive TRON wallets for Android devices.
VenaPi
Touted as the gateway to the TRON ecosystem for new users, VenaPi is a product of the VENA foundation and is developed by Chainboard.io in partnership with VENA Network. VenaPi was released in January 2019 and has been downloaded over 1,000 times at the time of writing this review.
VenaPi is a secure and exclusive wallet for TRON and its tokens that also functions as a dApp browser and a SR voting system. As of now, the dApp browser focuses on dApp games, with more categories of dApps expected to be added in future as the ecosystem develops.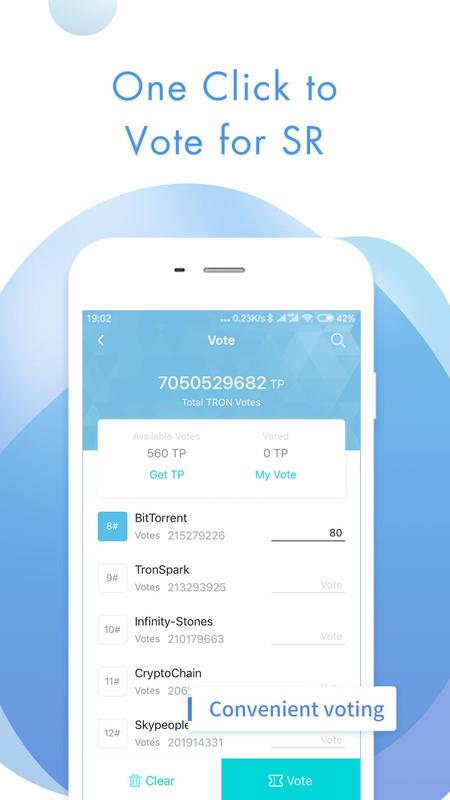 To maintain a high level of security, VenaPi stores all crucial information such as private keys, address books, access history, and collections locally on the user's device. All such information can be easily backed up for hassle-free import and export if needed.
Additionally, VenaPi supports 14 different languages with a user-friendly interface focused on simplifying and promoting the use of TRON.
Standout Features
Built-in dApp browser for TRON based DApps.
Does not collect user data or private keys, all data is stored locally.
Fingerprint Pay and Login along with Pattern Lock features
TronLink Wallet
TronLink Wallet is developed by the developers from the TRON community and was released in February 2019. It is the first official TRON wallet that is released and supported by the TRON foundation.
TronLink Wallet has cross-platform interoperability as it is also available as a Chrome extension and on iOS. As with other secure Android wallets, TronLink doesn't collect any user data and all wallet keys are stored locally on the device. TronLink is one of the few Android wallets to support all TRON-based tokens and provide access to TRON dApps, making it an excellent starting point for TRON holders.
One downside of the wallet is its lack of localization features. It only supports Chinese Yuan as an alternative local fiat currency option and Simplified Chinese as the only alternative language (besides English).
Standout Features
Allows users to switch between multiple user accounts.
Built-in SR voting system, dApp browser, and Market Watcher.
Built-in advanced features, including dApp testing tool and Recovery Phrase to private key transfer tool.


Tron Wallet

Tron Wallet is another multifunctional wallet that is developed by the TRON Society, with support from the TRON foundation. It was released May of 2018, making it one of the first exclusive Android-based TRON wallets.
It is decked out with many advanced and essential features, such as offline transaction signing, QR code-based payment handling, support for hot wallets, cold wallets, and watch-only wallets and the option to manually choose a node to connect to.
With Tron Wallet, users get to experience a snappy and intuitive interface, providing the ability to transact with TRX and TRON tokens, participate in token distribution events, and maintain an address book for ease of use.
Standout Features
Built-in Block explorer, Market Watch and SR voting system.
Encrypts private information with passwords and supports BIP39 backup phrases.
Features Multi-account setup, token creation, and hot/cold wallets.


---

Looking for something more secure? Why not check out get your hands on a cold-storage hardware wallet?
Image Credits: TronLink, Tron Wallet, VenaPi