With the majority of cryptocurrency investors holding both Bitcoin (BTC) and Ethereum (ETH), there is a great need for cryptocurrency wallets that support multiple cryptocurrencies at once.
Moreover, with both Bitcoin and Ethereum experiencing impressive gains since the beginning on 2019, and with further growth likely on the horizon, there has never been a better time make the move to a better wallet for your needs.
Thankfully, there are now dozens of multi-asset wallets, which allow users to store much, or all of their portfolio in a single place, making managing crypto finances easier than ever before. In light of these, take a look at the three best wallets to safely store both your BTC and ETH in 2019 and beyond.
Magnum Wallet
As far as multi-asset wallets go, Magnum Wallet is somewhat of a rarity. Not only does it support an impressive range of different digital assets, but it also offers a number of features that make it a rarity among web wallets.
One of the standout features of the wallet is its simple airdrop claiming service, which allows users to potentially benefit from more than 100 airdrops and forks if your private key is eligible. While most airdrops have little value, some have gone on to gain significant value and are definitely worth receiving if eligible.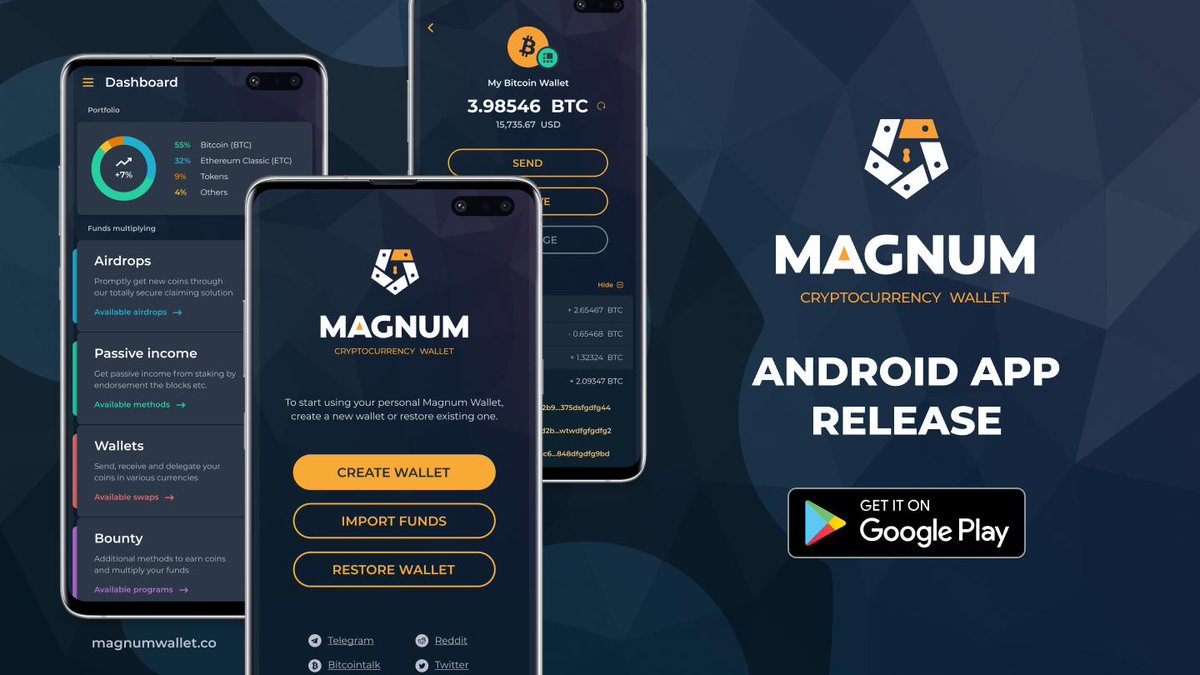 In total, Magnum wallet supports dozens of different digital assets, including both Bitcoin (BTC) and Ethereum (ETH), while featuring support for almost all the largest and most popular altcoins. Beyond this, Magnum also features compatibility with hardware wallets such as the Ledger Nano S and Ledger Nano X, making it suitable for those concerned with the security of their portfolio.
Magnum wallet also features an integrated exchange platform, allowing users to privately exchange between digital assets, and is regularly updated, with new assets and features being added on a monthly basis.
Pros
Compatible with Ledger hardware wallets
Earn passive income through Tezos Baking
Easily claim and receive airdrops
Cons
Limited stablecoin support
Limited privacy coin support
Less secure than running a full node
Exodus
Exodus wallet is a secure multi-asset cryptocurrency wallet that was released back in 2016 and has gained an excellent reputation in the space thanks to its excellent portfolio management tools and customer support.
As it stands, Exodus supports just over 100 digital assets, including Bitcoin (BTC) and Ethereum (ETH), as well as a good variety of privacy coins such as Monero (XMR) and Zcash (ZEC) and most other major cryptocurrencies. Exodus is also one of the few high-quality multi-asset wallets to be available on multiple platforms, including both desktop and mobile, ensuring you can sync your portfolio across several devices.
Arguably one of the Exodus' stand out features is its in-built exchange feature, which allows you to trade the great majority of supported digital assets without having to leave the app. This is greatly complemented by its sleek real-time portfolio tracking feature, which allows you to track how the value of your portfolio changes over various timescales.
Pros
Supports Trezor hardware wallets
Built-in exchange functionality
New mobile application
Cons
High exchange fees
No support for HD wallets
No dApp browser or staking features
Coinomi
If absolute variety is your major concern, then you can't do better than Coinomi (literally). As it stands, Coinomi supports the largest selection of digital assets than any current wallet, making it perfect for those looking to hold a wide array of cryptocurrencies.
With over 1,500 digital assets supported, Coinomi will let you securely store your Bitcoin (BTC) and Ethereum (ETH), along with practically every other major cryptocurrency all in one place. Coinomi is also available on practically every platform, including Windows, Linux, MacOS, Android and iOS, making it the ideal solution for those who need to access their funds from a variety of devices.
Beyond its impressive availability, Coinomi also boasts incredible security and privacy. Coinomi does not require any KYC, and there is no IP association or transaction tracking since Coinomi automatically anonymizes all traffic from the app. When you combine this with Coinomi's built-in exchange functionality it becomes apparent that this wallet stands apart from most others.
Pros
Incredible range of supported assets
Multi-platform availability
Native SegWit
Cons
No dApp browser functionality
No support for hardware wallets
Lack of portfolio monitoring features
Overall, while web and software wallets are an excellent choice for newer cryptocurrency users, they do not offer the same level of security that hardware wallets provide, making them unsuitable for large portfolios. If you are somebody with an extensive, or high-value portfolio, or are just concerned with the security of your funds, consider looking into a hardware wallet.
---
Image credits: Coinomi, Descryptive, Exodus, Magnum Wallet