Electrum is one of the most popular cryptocurrency wallets currently still in use, despite being initially released way back in 2011. Currently, Electrum is available on four different platforms — Android, Windows, MacOS, and Linux, making it the ideal wallet for those looking to access their Bitcoin from multiple devices.
Part of the reason why Electrum is so ideal is thanks to its ease of use, featuring one of the simplest setup processes and user interfaces around, while still maintaining the functionality and security you would expect from one of the oldest players in the game.
If you are just getting started with investing in Bitcoin (BTC) and are looking for an ideal wallet to get to grips with, then Electrum is a good place to start. However, if you are looking for best-in-class security, consider a hardware wallet instead, since these wallets are often cross-compatible with Electrum.
Setting up your Electrum Wallet
Step 1: To start using Electrum on your Windows computer, you will need to first download the standalone executable file or installer from electrum.org. Once this is downloaded, open the file to begin the installation process. 

If you have user account control (UAC) enabled, you may need to first allow the app to make changes to your computer before the installation prompt will open. If applicable, once permissions have been granted, you will be able to select the install location for Electrum, and click the 'Install' button to proceed to the next step.
Step 2: At this point, the installer will begin installing the wallet locally on your desktop. After the installation completes, you can click the 'Close' button to close the installation wizard. After the installation has completed, you should find a shortcut to Electrum on your desktop, as well as in your start menu.
Executing the application now will launch the install wizard, where you will be asked whether you want Electrum to select a server automatically or manually. If you are a beginner, we recommend selecting the 'Auto connect' option for now, which will allow Electrum to automatically select a server to connect to. 
On the next screen, you will be prompted to either select a pre-existing wallet file or create a new wallet. By default, the name of your new wallet will be 'default_wallet', but this can be changed to whatever you like. 
Once you have entered your desired name, click next to allow you to select the type of wallet you want to create. 
As can be seen above, in addition to supporting standard bitcoin wallets, Electrum also offers supports 2FA protected and multi-signature wallets. Alternatively, if you already have a recovery seed or private key you can import any pre-existing wallets into Electrum. 
For the purpose of this tutorial, we will select 'Standard Wallet' and continue on with the install wizard.
On progressing to the next screen, you will need to choose your wallet seed type. This can either be a legacy seed or a segregated witness (SegWit) based seed. We will continue with a SegWit seed for this example, since this will provide you will lower fees in the long run.
Step 3: The next step will contain sensitive data, so it is important to ensure that your screen is shielded from prying eyes at this step. On this screen, you will be presented with your 12-word wallet generation seed.
Write this 12-word phrase down on a piece of paper, and store it in a safe place. Note that this 12-word seed is what will be used to recover your funds, should you lose access to your Electrum wallet or have your computer break down. Note that this phrase will be different for everyone.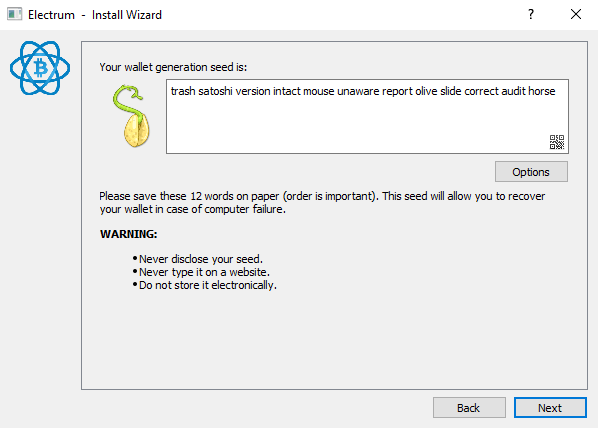 As prompted on screen, do not disclose this seed to anyone else, and avoid storing it electronically, since anybody who knows your seed will have unrestricted access to your funds. 
Once you have stored your seed, click the 'Next' button to proceed to the next step. Here, you will need to verify your seed phrase by entering your 12-word seed in the correct order within the verification box.
Step 4: Once the seed is verified, you will be asked to set a password to access your wallet. Adding a password adds an extra layer of security, but will require you to enter this password whenever you want to access your wallet in future. This step is optional, but we do recommend setting a password.
Once the password is set and confirmed, or you have skipped this option, you will be taken to the Electrum dashboard. Here, you will be able to send BTC, and retrieve your Bitcoin addresses. 
To retrieve your Bitcoin addresses, simply click the 'Receive' tab. All the addresses displayed on this page are tied to the seed you generated earlier, and are ready to receive BTC transfers.
You have now successfully installed Electrum! If you decide to branch out and want to look into storing a large number of cryptocurrencies in one wallet, take a look at our Exodus tutorials. Exodus will allow you to store more than a dozen different cryptocurrencies in a single wallet, making your life much easier when your portfolio starts diversifying,
---
Image credits: Electrum